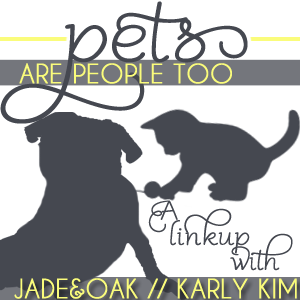 This is Peyton (Peyton Juliet if she's in trouble, which is often).
Peyton is extremely curious and gets into all kinds of trouble has all kinds of adventures! She loves people food and will eat just about anything if you give it to her. And if you don't give it to her she will help herself. Her favourite human food is chocolate milk, she will go to great lengths to stick her head in a glass of chocolate milk and as soon as she hears the fridge door open she is there to check out what you're eating.
She loves to be up high, she was around 6 months old when she figured out how to jump up on the kitchen table and then to the top of the fridge. (That's also where we used to keep the cat treats, but more on that later.) Recently she's decided she likes to hang out on the banister at the bottom of the stairs. She reminds me of one of those gargoyles you see on old buildings when she hangs out here.
She has a ridiculous amount of toys. I do mean ridiculous, she has a full toy box in the living room, not to mention she got her very own cast-iron cat bed last year for Christmas. Crazy? Yes. Absolutely Adorable? 100% Yes. She carries her toys all over the house and has a few favourites that she more or less takes everywhere with her. I snapped this picture last spring when I was packing for camp. I had gotten out my suitcase but hadn't put anything it in yet, I heard her coming up the stairs with a toy and she jumped in my suitcase with it and gave me this look. My heart seriously melted. The worst part about camp is being away from her!
Peyton is seriously smart, she plays fetch and has figured out how to open cupboards to get the bag of treats. She prefers to drink out of the faucet rather than her dish and if she decides in the middle of the night she's thirsty she takes a toy into the bathroom and meows and meows until I get out of bed and turn the water on for her. She may be a bit of a spoiled brat.
One of my favourite things about her is what I call her "Disney Princess eyes", they are so expressive and too big for her face, but I think it's adorable. She such a huge personality and even though she is an active cat and will play for hours she sleeps with me every night and purrs like crazy.