I just love the satisfaction of checking things off a to-do list and this month I got to make lots of check marks!
Last Months Goals:
Blog 15 times in October
I blogged a grand total of 22 times this month! I am quite pleased with myself.
Participate in 2 new Link-Ups/Blog Hops
I actually lost count of how many new link-ups I participated in this month. It feels like a lot, and some of them I enjoyed more than others. I did find some great new blogs to follow by joining in link ups of bloggers that I don't usually follow, which is always exciting!
Try 3 new recipes
I tried exactly 3 new recipes this month. Gingerbread Syrup to use in coffee, a teryaki chicken marinade and pumpkin spice muffins!
Read 2 books
I read 3 books this month!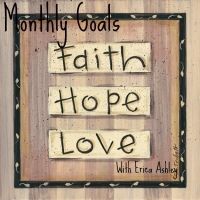 November Goals
Create a Blog Binder. There are so many awesome free printables and suggestions for how to organize posts, I want to figure out which ones work best for me.
Blog 20 Times. Self-explanatory.
Read 3 Books.
Do Yoga 4 times.
Make progress with 3 of the things of my 25x25 list.
I'm also participating in
NaNoWriMo
this month...but that's a whole other goal...and I have written a total of 8 words so far. Ideally I would like to complete a novel, but I think aiming for 50 pages of writing will be my bare minimum goal.