I was going to take the day off today but then yesterday I saw that
Oh, Hey Friday
had a new button that I am totally in love with and really wanted to use and so a post was born.
So that brings me to my first favourite of the week: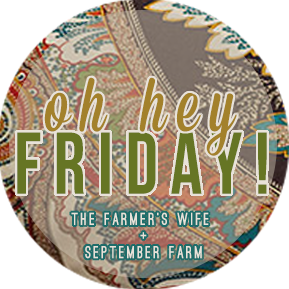 The paisley and the colours...the best. Tied into this favourite is the fact that I'm writing this blog post because I genuinely want to and not because I am consumed with guilt and determination to blog a bunch of times in one month.
My second favourite this week...
J. came home from Florida and brought me my beloved Vanilla Coke (some of which he put in his fridge for me so it would be cold when I went over last night) and a super cute bag. I told him numerous times I would have been perfectly happy with just the coke but his extra thoughtfulness is also appreciated. Last night we had pizza and garlic fingers then went for ice cream and watched some Jon Oliver. Definitely a low key night but a great way to spend a Thursday evening.
My third favourite this week...
Wednesday I went to a local farmer's market and I bought this amazing cupcake. It was a chocolate cupcake with peanut butter frosting. My mouth is watering just thinking about the icing. Seriously, it was the most delicious dessert I've ever tasted. I would eat it by the spoonful if possible. I need to stop thinking about it now because I'm just making myself sad that I don't have another one to eat right now.
My fourth favourite this week....
Tuesday I spent the day at my grandparent's house and took a bunch of photos. There's something magical and therapeutic about adventuring with my camera. I looked into taking a photography class this fall but it's on Saturdays and I've already committed myself to some Guiding events so I know I'd have to miss classes and it just doesn't seem logical to sign up when I know I'll miss classes. I'm hoping that they'll offer it again in the winter because I'd love to learn more about my camera in a more interactive way. Pinterest and photography blogs are great, they're just not the same as an actual class.
My fifth favourite thing this week...
I love summer. September is stressful and a huge transition month, but October...October I can get on board with. The leaves are pretty and I do enjoy sweaters and boots. And hot drinks and loads of fresh vegetables. I like Octobers. This year I'm hoping to make a trip to the pumpkin patch with J. and do lots of hiking and camera adventures in the midst of all the fall leaves.