Since I started dating J. about a month a go my weekends have gotten a little more exciting. We certainly spend our fair share of time hanging out on his couch watching documentaries (such exciting 20-somethings) but we've also ventured out to hockey games and restaurants and other date like things. J. is gone on vacation with his family for two weeks so this weekend the introvert in me celebrated in style. (Style implying I spend the whole time in jogging pants & a hoodie.)
Friday my weekend started with a brutal drive home from work. They let us go 45 minutes early because the roads were so bad. It typically takes me about 25-30 minutes to get home from work but Friday it was close to an hour. Earlier in the day it had snowed, then warmed up so things started to melt, then the temperature dropped again so all the melted stuff froze, then it started to snow again. Making the roads a mess of snow covered ice. Not a good time.
Saturday I slept in way later than usual, but I didn't feel too guilty clearly my body was trying to tell me it needed some rest. So keeping with the restful theme I lounged around the house until mid afternoon when Mom & I made a quick trip to the mall to look for a birthday gift for my aunt and then had supper at Swiss Chalet. On our way home we stopped at Target where I got an awesome winter jacket on sale for half price, I wore it to work yesterday and it's my new favourite.
I can't seem to find a photo online but the new coat is black which is great because the new winter coat I got last year is white. And I don't know what I was thinking when I decided that a white winter coat was a good idea, but it was not. It constantly has bronzer all over the collar from it rubbing up against my face, the other day I spilled coffee on it while trying to get into my car plus what could be more impractical than dressing in white in the middle of a snow storm? When I first brought it home my mother half joking half serious asked if I had gotten a neon hat to go with it so they'd be able to find me in a storm.
Sunday I had the first official camp meeting of the season. Official invitations went out yesterday to last years staff who are invited back this summer. While on Skype I also devoured almost an entire bag of my newest food obsession: Chicago Mix Popcorn.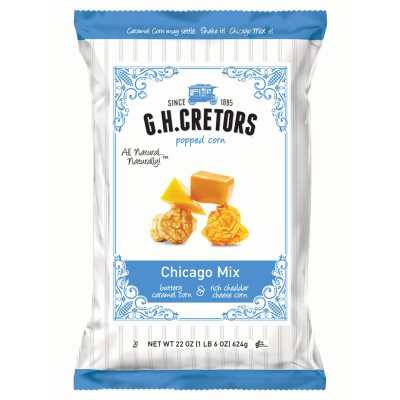 You might think that carmel popcorn & cheddar flavoured popcorn all mixed together in the same bag would be gross, but you would be wrong. It's delicious. I'm obsessed.
Yesterday I had another slippery drive home from work. I realize it's only January and there's still at minimum 3 more months of winter ahead, but I am done. Now, excuse me while I go stalk the weather report and highway cams in a feeble attempt to determine if tonight's drive to and from work will be as stressful as the last few nights.
Linking up here for Tuesday Talks!